Sacraments: the rites instituted by Jesus, the creeds, practices, and teachings of Christian tradition.
"Jesus took bread, and after blessing it broke it and gave it to the disciples, and said, 

"Take, eat; this is my body."

  And he took a cup, and when he had given thanks he gave it to them, saying, 

"Drink of it, all of you,

for this is my blood of the covenant, which is poured out for many for the forgiveness of sins." Matthew 26:26,27
Philip Jones, Lead Bishop of AMiA explains the place of the Sacraments within the three streams of an abundant life.
Below the video are more resources related to the Scriptures.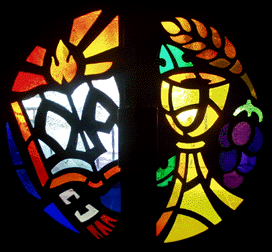 The catechism explains that the sacraments are outward and visible signs (read: symbols) of inward and spiritual grace. This grace must be experienced, not just cogitated about or announced over us in the sacraments. And grace, such as the grace of knowing you are marked as Christ's own for ever, is delivered through the Holy Spirit.