"Ascribe to the
Lord

 the glory due his name; worship the 

Lord

in the splendor of holiness." Psalm 29:2

We enter worship together to celebrate the love and grace of our Lord Jesus Christ. Below, explore how to grow in reverence and joy.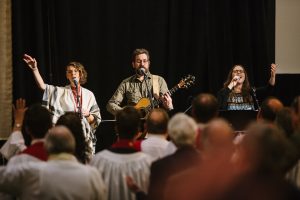 Music serves the liturgy; it does not stand as a liturgy in itself. Music aids the people in singing the praises of God. Music opens the hearts, minds and emotions of worshipers to experience the beauty of the Lord. Music is NOT a neutral vehicle for words; it is not just a cognitive exercise.