Advent Ideas for Families
December 2, 2021 | Robin Turner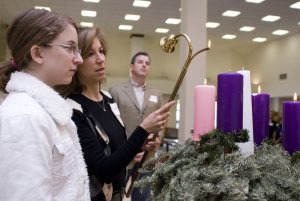 By Dr. Robin Turner, Director of Children's Ministries at All Saints Dallas
Children spend much of their lives waiting- waiting for meals or snacks, birthdays and play-dates, recess and the final bell. Advent is a season where the whole church family waits together, and we can learn together how to wait well. The world is in a hustle of holiday preparation, and the church has the unique opportunity to twist that hustle on its head and intentionally learn how to be people of joyful anticipation.
Advent is a gift for the church of all ages. It's easy to imagine what Advent could look like in a theoretical "someday" when life won't be so full- when no one's in diapers, when there are fewer class parties, when the supply chain for presents sorts itself out- but it's exactly in these busy days that we need to learn how to embrace Advent together with intentionality, not perfection.
The following tips and tricks are things I have seen work for some families to make for a thoughtful Advent season. They will not all work for every family in every stage, but a few will work this year and a few might work in the future and still others might never be a good fit for your family. The best advice I've heard is to think about how you could have fit Advent practices into the past few weeks of your actual life, and then attempt those same patterns for the actual Advent season.
Advent Wreaths: There are many Advent booklets with short Scripture meditations for each day, but with very young children, even these short readings might be too much! Consider lighting the appropriate candles during dinner each night, taking a moment to remember the meaning of that week's candle, and singing just one verse of a "waiting song" together. Maybe you're not a singing family- can you listen to an Advent playlist on Spotify while dressing for school, cleaning up dinner or getting ready for bed? We also love "Waiting Songs" by our friends at Rain for Roots.

If you do choose to read aloud, keep a small basket of Advent-themed objects that children can fidget with as they listen- a small nativity scene, greenery and pine-cones, purple ribbons, crayons and Advent-themed coloring pages. Children will listen better with their ears if their eyes and hands are busy.

December 6 is Saint Nicholas Day. The real St. Nicholas, the 4th century bishop from Turkey, was known for his generosity and secret gift-giving. He's become mythologized into the modern "Santa Claus", but plenty of people around the world still celebrate St. Nicholas Day, and many children wake up on December 6 to find small candies in their shoes. In the Spirit of our Christian brother, Saint Nicholas, consider using this day as a secret gift-day either preparing a gift as a family for someone or assigning each family member someone in the home to bless. For a wonderful rendition of the true story of St. Nicholas, check out this new book from IVPKids.

Brainstorm as a family about how you can help others anticipate Christmas! Purchase a large bag of Christmas candies to keep in the car, and let your kids pass them out throughout the month with a "Merry Christmas!" to store employees, service people, friends, teachers, etc; go caroling in your neighborhood or on FaceTime to friends far away; involve your children in sending Christmas cards.
By recognizing the 24 days of Advent as a time of preparation and the 12 days of Christmas as a feasting season that lasts longer than one day, we can step out of the holiday rush, prioritize what matters for our unique family, and engage with wonder and delight at God's good gift to us in the incarnated Christ!
Dr. Robin Turner is the Director of Children's Ministries at All Saints Dallas. She studied spiritual formation and leadership at Portland Seminary (DMin) and Christian formation and ministry at Wheaton College (MA, BA). Her work over the last decade has been devoted to helping local churches value and nurture children's spiritual formation. Robin lives in Dallas with her husband, Sam, and son, Davy.