What Being a Hospice Chaplain Taught Me About Easter
By Rev. Paul Jagoe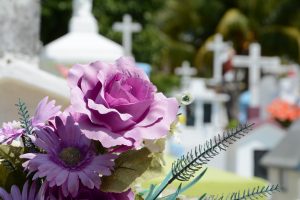 The New York Times obituary on May 19, 1981 noted that writer William Saroyan had contacted The Associated Press five days before his death to leave this posthumous statement: "Everybody has got to die, but I have always believed an exception would be made in my case. Now what?"
When I embarked on my new role as a chaplain for Journey Hospice in Greenville, South Carolina in October of 2012, I imagined my work would be visiting with people who knew they were facing death and would want to talk about their fears, hopes and faith or lack thereof. I discovered that many of my patients were, instead, in some phase of denial. Though they were not expecting an exemption from death, they were still praying for some grand miracle that would give them more time in this world!
But why should I be surprised since hospice patients are a reflection of our world, one with a long history of pushing back against death. People have long searched for ways to hold off death. Early on some searched for the fountain of youth. Later on others have prayed for a scientific solution to the problem of death. In the meantime we are inundated with offers of diets, exercises, new surgeries, face lifts, anti-aging creams and other products that promise they can hold back the effects of aging and death. But try as we will, death will have its way and no one gets out of this world alive.
The gift of hospice is to provide comfort and care to patients nearing the end of life and their families. The gift of the hospice chaplain is to bring the extraordinary message of Easter. In Christ death does not have the final say and in him the patient can join in the resurrection on the last day! We seek to help patients gain an eternal perspective and offer them the opportunity to come to grips with their pending death and grab hold of eternal life through Jesus Christ.
After 23 years in the parish I had to make a shift in the way I thought about and valued ministry. Hospice ministry is not done among the crowds on Sunday or in classes on Wednesday night. There are no processions, no choirs and praise bands. All these things I loved. It is a one-on-one ministry behind closed doors (listening, counseling, encouraging, being, singing, praying and teaching) and out of the spotlight. Hospice is the kind of ministry that humbles the heart and teaches one to become a servant to the least. I was helped in this perspective by the picture of Jesus on his knees washing his disciples' feet and the example of Mother Teresa, whose ministry gave dignity to persons who were dying on the streets in Calcutta. I was surprised to realize that I am making more significant impact on more people as a hospice chaplain than when I was working in the context of a parish.
It helps us that we are an Easter people. We know it will be great a day of rejoicing for everyone who has embraced the Lord in this world before he slips into the next. Chaplains therefore can offer hope when hope is fading. We can provide comfort and strength. We are able to help some come to know the Lord of life and encourage others who believe in God's promises but feel shaky, needing the gentle assurance of a friend in Christ. I like to remind them that Christians are in a win-win situation. If we wake up tomorrow that is wonderful, but if not we will wake up seeing Jesus. St. Paul says this "is far better."
We are oftentimes encouraged when we walk alongside patients who truly are at peace and are confident that death in this world leads to life in the next. They are like the English Puritan John Owen who made this comment on his death bed, "I am yet in the land of the dying, but I hope soon to be in the land of the living." I frequently go home praying that I will have the same peace and confidence when the end of my life draws near.
It is an honor and a privilege to walk alongside our hospice patients on the final leg of their journey home! There is no fanfare or choir that follow us to each patient's home, but we are confident there is a heavenly choir that sings with great joy when they know one of God's children is coming home for "Precious in the sight of the Lord is the death of his saints." Psalm 116: 15.
We in the Anglican Mission are an Easter people—may the world see in us the hope of the resurrection!
Paul Jagoe is a Chaplain for Journey Hospice in Greenville S.C. and is a professional life coach at Impact Leader Coach. He has a D.Min in Business Ethics and Workplace Leadership.