Why I Am No Longer a Church Planter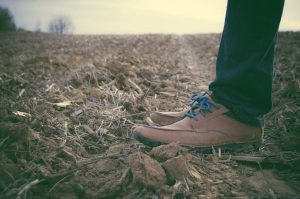 It was a seed that had been germinating for a while.  A new church plant in Arlington, TX.  Why not me?  Why not now?  After being assessed by All Saints Dallas, I decided to go for it and try to plant St. Barnabas the Encourager in Arlington, Texas.
My initial goal was to build the nucleus of a church plant.  All Saints Dallas knew that I might struggle to gather people but graciously allowed me to try regardless, since I felt certain that God was calling me to begin this work.  I had a heart for Arlington.  I knew that there were solid churches in Arlington, but a need for more.
A work in progress
I reached out to local pastors to learn from those who were already doing Gospel work.  Our group chipped in and bought Thanksgiving dinner for an single mother and her three children.  We all bought gifts and gave the same family Christmas gifts.  People were encouraged.  God's Word was unpacked.  We prayed for each other.  Those were good memories of St. Barnabas the Encourager.
We had about 40 people either come to events or express interest in receiving our correspondence.  We met as a pastorate.  It was my job to gather people, provide a spark, follow-through on prayer needs and all the other things that a church planter does.  I spread the word about our plant, sent regular emails and created a Facebook page.
When times got tough
Some nights, we had just one other family show up.  I severely underestimated just how stretched people are when choosing how to spend their time.  If there is a married couple with kids, chances are good that they both work outside the home.  They are tired.  No, they are exhausted.  They are tired of constantly moving and they are concerned for the future of their kids.  They want to pay for college, save for retirement, go on vacation.  Nothing wrong with that.  We have three kids and know how much work it is.
But I was not prepared for how this stress and busyness could cut into weeknight activities.  People are under considerable pressure and are beset by all kinds of worries.  Sunday mornings, in Texas, are still sacred ground.  But Tuesday nights?  Wednesday nights?  Those spaces are usually occupied by homework, television or sports practices.  They may want to go out on a rare date or see family.  They might have to work late.  Going to one more event, even a church-related event, is hard to justify.  You have to inspire people for them to come.  As the church planter, you must be mindful of the space that church occupies in the culture you are trying to reach.
If you are planting a church, you should be aware that it will be hard to get consistent attendance at anything other than Sunday morning worship.  Don't assume that because you are an ordained seminary graduate and you are excited about using the collect for the Conversion of St. Paul this week that everyone else is.  You might think having a feast for St. Barnabas is pretty neat.  Set the table for a party of one.
Facing failure
In the end, the church plant did not last.  After thousands of dollars raised and about fifteen months of effort, it failed.  I simply could not get enough traction when gathering.  I was underfunded.  I lacked experience.  I was alone.  I had heart and I had zeal.  Heart and zeal are good.  But heart and zeal alone are not enough to build a self-sustaining church.
One key that I missed was confusing God's calling with a desire to see something happen.  I have a heart to see another liturgical, Spirit-filled parish in Arlington, Texas.  That doesn't necessarily mean that I am the man called by God to plant it.
Why did this happen to me?
People express their sympathy to me when I tell them that the church plant failed.  I appreciate this.  I went through a period of grieving.  I was sad that my efforts did not bear the fruit I desired.  Looking back, I am glad I tried it.  I grew as a person, and certainly have a much deeper respect for church planters than ever before.  I was forced to reflect on the reason why my plant did not make it.  Why did My Father let me fail like this?
I have accepted his wisdom and timing.  The story of Moses was a great encouragement to me.  Moses spent most of his life preparing for his prophetic ministry.  Who am I to question His timing?  We live in a culture of instant gratification.  Our God stands outside these infantile demands.
A grateful contentment has welled up in me to replace the temporary pain of a church plant that failed.  God has blessed me with many gifts and I have done my best to use those with the time allotted to me.  All the results beyond that are up to Him.
Was it all about me?
I also wonder just how much I wanted a Spirit-filled, liturgical church in South Arlington for my own selfish reasons. Maybe I wanted that church to exist because All Saints Dallas is, well, in Dallas?  Driving 45 minutes to church every Sunday isn't much fun.  I believe that motivation, as much as it pains me to admit it publicly, was part of why I wanted to plant this church.
If you are thinking of planting a church, why?  Do you want to live in a certain city?  Do you like the rush of adrenaline you get from preaching?  Church planting is too hard to be just a convenient job or a project to increase your self-esteem.
We do many things that appear to be for the glory of God, but we know at their genesis they are planned to please ourselves first.  Our starting point must be surrender to God.  What is the alternative?  Telling God our plans for His church?  Ultimately, selfish motivations will not thrive in His Kingdom.
What church planting taught me
Church planting is lonely.  It is best if you have experience at all the "lower" levels before attempting to plant a church.  In planting a church, you will have to be many different things.  There are competing philosophies about the type of plant you need to be and it is probably best to pick one "model" and run with it.  This is important because you will be doing such a wide range of things on your own.
Through all the fluidity of a plant, you need to be committed at your core to key principles and ideas.  For example, if you believe the Book of Common Prayer is a critical piece to the life of an Anglican church then use it, embrace it and pray from it… as a group, up front, from day one.  If you believe that a lot of flipping around from page to page is better left in the previous centuries, make that clear right away.  What will not work is asking the group exactly what they want because they are not the ones with the spade in their hand, planting a church.  They are waiting for you to lead.
I wasn't committed enough to the distinctives that I believed were important.  I wanted the plant to work so badly that I compromised in too many places.  With my inexperience, I did the best I could.  It is important to hear how God is calling your parish to be different.  People will have good ideas and you should listen.  However, you should remember to stick to the things that God has called you to do and understand that those ideas from others might be good…. for another church.
Hope and humility
In the end, planting a church is like any other experience in life.  It is a learning experience. While the actual plant itself never made it past the embryonic stage, I know that we had success reaching many people with the love of Christ.  We served poor families, encouraged participating families and prayed for those in-between.  I grew in humility, knew when to follow my gut and when to trust the guidance of others.  I realized how critical God's calling and Word are in church planting.  I came to understand that a franchise model of church planting is really not all it is cracked up to be.  I believe in organic works of God, covered in prayer.  I know that lives can be touched and impacted by persistent disciples of Jesus.
If I could do it all over, I would wait. I would assemble a prayer team. I would surrender my entire catalog of wishes to The Lord and ask Him to lead me to the right place, the right people and at the right time. I would not act until He gave me that direction and that peace. I would hold that calling close to my heart and refer back to it often. And I would plant again.
Gavin+ Pate has been a part of various church plants. He also spent three years working for a regional church planting network.