Lent Fasting for a Changed Heart
February 11, 2021 | Ron+ McCrary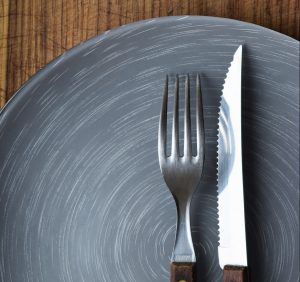 by Ron+ McCrary, All Saints Dallas
Lent can be the most spiritually transformative season in the Christian year because of its tight focus on employing powerful spiritual disciplines. Confession, solitude and silence, as well as added devotional practices, are just a few.
Fasting has had dramatic effects on my journey of transformation of character into the likeness of Christ. But first, a word of caution:
[Jesus said,] "Beware of practicing your piety before men in order to be seen by them; for then you will have no reward from your Father who is in heaven. … And when you fast, do not look gloomy like the hypocrites, for they disfigure their faces that their fasting may be seen by others. Truly, I say to you, they have received their reward. But when you fast, anoint your head and wash your face, that your fasting may not be seen by others but by your Father who is in secret. And your Father who sees in secret will reward you." Matthew 6:1,16-18 ESV
Fasting is a spiritual training exercise of disengagement in imitation of Jesus' 40 days in the wilderness. Fasting is the voluntary abstinence from food or pleasurable beverages, entirely or partially, for spiritual purposes. To be effective, it must be practiced unto the Lord from a converted heart under the Holy Spirit's power.
There are all kinds of fasts recorded in the Bible:
ordinary fasting, which is total abstinence from food but not from water
partial fasting, which is abstinence from particular foods or pleasurable drink but not total abstention
extended fasting beyond two or three days, which must be practiced with care under supervision
While there are many purposes for fasting found in the Bible, the primary purpose of Lenten fasting is learning to depend more fully upon God and trust him to provide for us in every way. We are learning to discipline our desires and not to be ruled by them.
A few years ago, I fasted for many days during Lent and was surprised to discover that my strength does not come from food but from the Lord. I experienced an unusual closeness to Jesus and had more joy and energy than I could have imagined. And my prayer life was way more intense. That extended Lenten fast was one of the most transformative experiences of my life through God's power at work within me.
Fasting is not for everyone, especially people with serious medical conditions or eating disorders, or those wishing to lose weight. We also need to be sure that our fasting does not inconvenience family members.
After 40 days of Lenten self-denial, the Easter season of feasting and celebrating God's goodness almost explodes with delight.
Suggested Readings:

Ron+ McCrary is passionate about spiritual transformation, developing leaders and strengthening the local church. He helped plant All Saints Dallas and was the founding Executive Director of AIM Church Planting (in the Anglican Mission), which became the Anglican 1,000 church-planting movement. He now serves on the staff of All Saints Dallas. Ron served for more than 20 years in leadership at Christ Church Anglican in Overland Park Kansas. Ron helped draft and was one of the original 30 signatories of The First Promise, which led to the formation of the Anglican Mission in America. Ron and his wife, Ann, love being near their three children and their families in Dallas and Austin.