From the Lead Bishop: Racial Reconciliation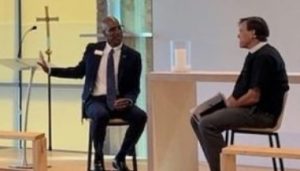 Perhaps you have noticed, as I have, how certain causes or issues will flare up for a time, causing us all get all excited. Many of us get onboard, only to jump into the next concern that catches our attention. For some things, that's okay. I get it.
But there are other issues that deserve our engagement for the long haul. To stay the course, we have to be focused and intentional. We have to say, "I will learn about this until I get it, and then I will work to help others understand too." I believe the cause of racial justice and reconciliation is that kind of thing.
I was thinking recently about the instances when racial issues have been prominent during my lifetime. Yes, I am old enough to remember sit-ins and marches. On TV I saw Dr. King deliver his "I Have a Dream" speech and knew about the Civil Rights Act of 1964. Observing those events formed the beginnings of my awareness.
But growing up in an affluent home and neighborhood, I can't say I had much real understanding of the struggle of Black people in America. When our longtime housekeeper led me to the Lord, I knew we had become brother and sister in a very true way. Yet still the daily injustices and bigotry she faced as a Black woman were far from my experience or comprehension.
More recently, in August 2014, the shooting death of Michael Brown set off heightened racial unrest across the country. Former All Saints Dallas (ASD) Music Director Ryan Flanigan explained his own growing grief this way, while introducing "Lord, Lord, Lord," a song he wrote inspired by his response to these events:
"In the wake of the August 9, 2014 shooting of Michael Brown in Ferguson, Missouri, racial tensions in the U.S. were elevated higher than I've ever personally experienced. As a privileged, white, middle class, American man, I felt for the first time in my life the systemic injustice against black males in our country.

"What I found most troubling, besides death itself, was the response of some white, privileged people to the shooting, particularly the response of some Christians on social media and the news. When we should have been mourning with those who mourn, confessing our fears and sins, and seeking reconciliation, many of us turned a blind eye or assumed a posture of defensiveness and denial. I wrote this song as a corporate confession of sin to God and our fellow men, a plea for God to forgive us and restore our broken trust with him and with those we've failed to love."
Ryan's song of lament continues to help us express our pain over racial issues.
More recently, in the summer of 2016, Dallas experienced the terrible incident of policemen being ambushed and shot by a man angry over other police shootings of Black men. As a city and as a church we grieved with and for our community.
In May of this year, George Floyd's tragic killing once again gripped our hearts and heads. It made us angry, sad and sober. The conversations that followed reminded me how very much more I needed to know, understand and change. And I suspected the same was true for many in our congregation and throughout The Anglican Mission.
Opportunities to Grow
I took a few initial steps by joining conversations with other church and community leaders in Dallas set up by OneDallas Movement. The goal was to "gain a greater understanding of racial injustices and to fight inequities" in the city. To help our ASD family understand more about OneDallas, I recorded a video chat with Anne MacDonald, one of our ASD members who is a part of the OneDallas formation group. "Our goal is to give people access and the opportunity to hear from apoliticized voices, in hopes that they will then want to get more engaged. It's human nature to be in ethnic conflict, and we also know that we serve a God that wants to heal," Anne explained.
Exposure to these "apoliticized voices" leads to a desire to go deeper, to learn more.  I contacted a former church member, Majeedah Murad, who was raised as a Muslim but came to Christ through Alpha. A woman of color, an attorney, an employee with Wycliffe Bible Translators, Majeedah has much to teach me, us, about becoming a welcoming community to Blacks and other minorities. Again, I recorded our chat to share this good dialogue.
These conversations prompted my interest in a program called Arrabon (which means, "a foretaste of what is to come") that "[equips] Christian leaders and their communities with the resources to effectively engage in the work of reconciliation." At All Saints Dallas, our clergy, staff and board of stewards, along with members of our congregation who identify with several ethnic communities, have been participating in this workshop. When the study is complete, we will evaluate it to see if it is a tool to recommend for broader use across the AMiA.
Yet another way we are expanding our exposure to racial reconciliation is through our longtime affiliation with the National Association of Evangelicals. Allen+ Hughes represents the AMiA in this organization, and last May let me know about a new statement from the group on racial turmoil. The thoughts expressed there reflect my own position and that of AMiA.
It says, in part, "No race or ethnicity is greater or more valuable than another. Evangelicals believe that the good news of Jesus Christ has the power to break down racial and ethnic barriers (Ephesians 2:14–18). Racism should not only be addressed after tragic events. Our communities of faith must pursue sustained efforts in this labor of love and justice." I hope you'll read the entire statement to understand our thinking on and commitment to racial reconciliation and healing.
In the 1950s and 1960s, America changed its laws to establish equality among races. But I don't think many of us changed our hearts. Hearts are hard to change. It is possible, though, with intentionality, commitment and openness to the Holy Spirit.
As we wrestle and learn, as we grapple and grow, let's do so with a clear understanding of the true issue we each face in our hearts when we consider someone else as less than ourselves. As Tim Keller points out, when Paul confronted Peter about racism in Galatians 2:11-21, "He did not simply say to Peter, 'Repent of the sin of racism, you bigot!' but rather, he said, 'Repent of the sin of forgetting your gracious welcome by God through the costly sacrifice of Christ.'"

+Philip Jones is the Lead Bishop of the Anglican Mission in America and also serves as Rector of All Saints Dallas. Philip was born and raised in Dallas. He practiced law in Waco, Texas for seven years before he was called to the ministry. He has led churches in Marshall and El Paso, Texas and St. Andrew's Church in Little Rock, Arkansas. His wife, Claudia Clinton Jones, is from Burnet, Texas. They have seven children and thirteen grandchildren.