Focusing on Christ's Victory During Lent: Helpful Tools
There are certain tools I have found to be particularly helpful in focusing on Christ's victory in my own life during the season of Lent. It is important to start small. For example, denying myself a second cup of coffee in the morning reminds me that it is God who gives me strength, not caffeine! Fasting can be a particularly meaningful way to intentionally remind myself that God provides for me. Whether it be the full Lenten fast (basically, going vegan) or cutting out chocolate, I enjoy fasting in some capacity each Lent.
I also find that reading the spiritual classics, especially the lives and sayings of the Desert Monks, during Lent can be a particularly helpful way to remind myself of the paradigm I aim to keep in mind: The Desert Monks appropriate the victorious life of Christ in a very literal way, which I find to be a helpful allegory for my own spiritual life. The monks' life of constant prayer, meditation, contemplation, confession of theirs sins to one another, their recitation of Scripture, fasting, self-denial and ultimately, deep focus on Christ and his victory in their lives are all particularly helpful ways to be reminded of God's victory, through Christ and by the Holy Spirit, in my own life.
Inspired by the disciplines of the monks, I find that more times of confession with my spiritual director can be especially useful during Lent. I also find that more time spent in prayer is good, if possible. While I normally aim to pray the Morning and Evening Prayer from the Daily Office in The Book of Common Prayer I find that praying the Noonday Prayer and Compline can be useful additions during Lent to help me focus more on God and his victory in me through Christ. As Martin Luther famously said (paraphrased): "I had so much to do today, I spent the first three hours in prayer!"
I also find that devoting time to more contemplative prayer like Centering Prayer, the Jesus Prayer, Lectio Divina (particularly accounts of the life of Christ) and the Rosary (which is, at its heart, about the life and victory of Christ), using the Anglican classic St. Augustine's Prayer Book for example, can also be helpful during Lent.
Eucharistic celebration and devotion is the greatest of reminders that it is God through Christ who gives us life. It is, furthermore, perhaps the most physical of all the appropriations of the life of Christ into our own lives; for when we partake of it, we are really partaking of the very life and person of Christ.
I find the Lenten season to also be a great time to see if there are areas where I can cut back on unnecessary spending and increase tithing/charitable giving. At The Stony Brook School, where I teach and minister, we offer services of Penitence and Healing in the chapel during Lent as ways to help our students corporately focus on the forgiveness and healing (spiritual and physical) that has come with Christ's victory in us.
Lastly, I find that Lent can be a good time to rethink (or think about for the first time) the daily rhythm of prayer in individual life and/or the corporate life of the parish. It's an opportunity to use the lives of the monks as a paradigm, writing a "rule of life/prayer" to help me focus more on the victory of Christ.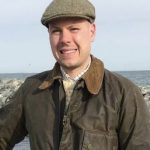 Jason+ Radcliff is Head of School at Augustine Classical Academy in Upstate New York. He is the author of "Thomas F. Torrance and the Church Fathers" (2014), "Thomas F. Torrance and the Orthodox-Reformed Dialogue" (2018) and (with Canon Bruce Griffith) "Grace and Incarnation: The Oxford Movement's Shaping of the Character of Modern Anglicanism" (2020), all published by Wipf & Stock, as well as of numerous essays and articles.