Recommended Summer Reading 2023 Part 2
July 17, 2023 | Robert+ Balfour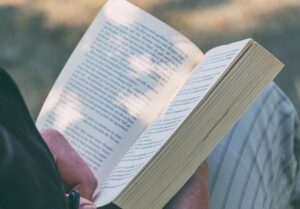 Summer Recommended Reading, Part 2
Rev. Robert Balfour, Associate Pastor of Grace Northridge Church, suggests two books he'd recommend this summer.
Welcoming the Stranger by Matthew Soerens and Jenny Hwang Yang, foreword by Leith Anderson
As Americans, we find ourselves in politically stratified times. Thanks in part to social media and polarized news outlets, this is the most politically divided time that I have experienced. I began my ordained ministry in February of 2020. I had no idea what was coming and how it would challenge me to listen more and speak less as people I loved on both sides of the political spectrum shared their fears about the future with me.
One of the issues of great concern to most Americans is immigration. A challenge in the immigration debate, as pointed out by the authors of Welcoming the Stranger, is that both sides maintain that this is a simple issue when viewed from the right perspective. Each sees their understanding of the issue as well as their proposed solutions as self-evident. But given the fact that they come to opposite conclusions, it is clear that the challenges involved in immigration are more complex and nuanced than either side seems willing to admit.
In their book Welcoming the Stranger, Matthew Sorens, Jenny Yang and Leith Anderson strike a refreshing balance between the partisan extremes. They share stories of various groups of immigrants, including refugees. They reflect on and hold in tension the biblical mandates to care for the foreigner and to obey those in governmental authority. Ultimately, they propose a way forward for Christians who take seriously these biblical truths and resist the pull of sectarianism.
Among the groups of people that Jesus identifies with in Matthew 25 as "the least of these" are those who are strangers, saying to the righteous, "I was a stranger and you invited me in." We must reflect carefully on what it looks like to put this into practice in 21st century America. This book does not contain all of the answers, but reading and reflecting on its content is a great starting place for Christians eager to love their neighbors as themselves.
Africa Bible Commentary edited by Tokunboh Adeyemo
In the modern world, we have unparalleled access to information about nearly everything. This is just as true for resources for biblical study. While access to information is a wonderful thing, the sheer volume of options can be overwhelming and make it difficult to locate high-quality resources. For this reason, it is helpful to receive good recommendations.
About six months ago, I reached out to a fellow Anglican priest for recommendations of biblical study resources from the developing world. This friend does a lot of work with immigrant and refugee populations, so I knew he would have some helpful suggestions. Among his recommendations was the Africa Bible Commentary.
This wonderfully approachable resource provides helpful commentary on every passage of the Bible in one volume. Its content was written by a group of 70 African theologians and biblical scholars and overseen by Dr. Tokunboh Adeyemo. This commentary is approachable to scholars and lay readers alike, and the observations made are deeply practical. The succinct nature of the commentary makes it helpful for personal devotions, Bible studies and so much more.
While there are a plethora of Bible commentaries to choose from, this one is uniquely helpful for us as westerners. One of the best ways to become aware of our cultural biases and presuppositions is to read the work of those who come from different cultural contexts. I have been challenged and encouraged to see the biblical context in a fresh way as I have used this resource for writing sermons and in my personal studies. Moreover, given the strong ties that the AMiA has to African bishops and churches, it is incumbent upon us to learn from African perspectives. This requires work beyond reading books and commentaries, but this resource is a great place to start.

Rev. Robert Balfour is the Associate Pastor of Grace Northridge Church and the Director of the Old School Makerspace, a community center for creative disciplines in San Antonio, Texas. Robert received his Master of Divinity degree from Fuller Theological Seminary, with emphases in Latino and Islamic studies. He is married to Lauren Balfour, and they have three kids 5 and under: Theo, Peter and Ezra. In his free time, he enjoys running, roasting coffee and building furniture.