The End of the Story
March 7, 2023 | Lyn Baker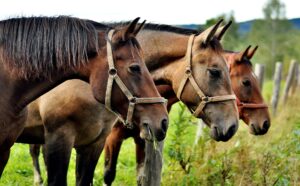 Once upon a time there was an old farmer who had worked his crops for many years. One day his horse ran away. Upon hearing the news, his neighbors came to visit. "Such bad luck," they said sympathetically.
"Maybe," the farmer replied. The next morning the horse returned, bringing with it three other wild horses. "How wonderful," the neighbors exclaimed.
"Maybe," replied the old man. The following day, his son tried to ride one of the untamed horses, was thrown, and broke his leg. The neighbors again came to offer their sympathy on his misfortune.
"Maybe," answered the farmer. The day after, military officials came to the village to draft young men into the army. Seeing that the son's leg was broken, they passed him by. The neighbors congratulated the farmer on how well things had turned out.
"Maybe," said the farmer.
In the first chapter of the book of Ruth we find that Naomi left her homeland with her husband and two sons to find food. She lost her husband and both sons and was in danger of starving to death.
We read, "So the two of them went on until they came to Bethlehem. And when they came to Bethlehem, the whole town was stirred because of them. And the women said, "Is this Naomi?"
She said to them, "Do not call me Naomi; call me Mara, for the Almighty has dealt very bitterly with me. I went away full, and the LORD has brought me back empty. Why call me Naomi, when the LORD has testified against me and the Almighty has brought calamity upon me?" (Ruth 1:20-21)
The great film director Orson Welles said, "If you want a happy ending, that depends, of course, on where you stop your story."
Naomi is in the middle of her story, but she does not know that. From her point of view, her life has been one disaster after another.
This is a theme in the chronicles of the people of God. Moses flees for his life after killing the Egyptian. He spends 40 years tending sheep. (Good training for tending Israelites!) God sends him to rescue the people. In the middle of their journey to the Promised Land, Moses has a very frank conversation with Yahweh:
"Moses said to the Lord, 'Why have you dealt ill with your servant? And why have I not found favor in your sight, that you lay the burden of all this people on me? Did I conceive all this people? Did I give them birth, that you should say to me, 'Carry them in your bosom, as a nurse carries a nursing child,' to the land that you swore to give their fathers? Where am I to get meat to give to all this people? For they weep before me and say, 'Give us meat, that we may eat.' I am not able to carry all this people alone; the burden is too heavy for me. If you will treat me like this, kill me at once, if I find favor in your sight, that I may not see my wretchedness.'" (Numbers 11:11-15)
Job was a righteous man. Here is his complaint to the Lord:
"Why did you bring me out from the womb? 
    Would that I had died before any eye had seen me 
 and were as though I had not been,
  carried from the womb to the grave. 
Are not my days few?
  Then cease, and leave me alone, that I may find a little cheer
before I go—and I shall not return—
  to the land of darkness and deep shadow." (Job 10:18-21)
In the New Testament, John the Baptist, after baptizing throngs of people at the Jordan River, having a tremendous influence on the people of Israel, finds himself in prison, awaiting execution by the wretched Herod. He asks Jesus' disciples to ask the Lord, "Are you the one who is to come, or shall we look for another?" (Matthew 11:3) Things did not look good. Why had God allowed this to happen? John died a hideous death at the apparently random whim of Herod and his mistress.
Not long after this, our Lord and Savior Jesus Christ, hanging in agony on a cross, disfigured, beaten and forsaken, asked "My God, my God, why have you forsaken me?" (Mark 15:34)
How can God let this happen?? Let's look at the end of these stories.
Naomi's story ends in joy and fulfillment. Not only did she receive a grandson to carry on her family line, but she is also part of the family line of King David and Jesus of Nazareth, the Son of God. She shares the DNA of the Son of God. How could she ever have imagined this??
Moses appears at the Transfiguration of the Lord. In Luke's version we read:
"Now about eight days after these sayings he took with him Peter and John and James and went up on the mountain to pray. And as he was praying, the appearance of his face was altered, and his clothing became dazzling white. And behold, two men were talking with him, Moses and Elijah, who appeared in glory and spoke of his departure, which he was about to accomplish at Jerusalem." (Luke 9:28-31)
Moses, who was so angry at God, is part of the heavenly council.
In Job's story we learn that God restored everything he had lost.
"And the Lord blessed the latter days of Job more than his beginning. And he had 14,000 sheep, 6,000 camels, 1,000 yoke of oxen, and 1,000 female donkeys. He had also seven sons and three daughters. … And in all the land there were no women so beautiful as Job's daughters. And their father gave them an inheritance among their brothers. And after this Job lived 140 years, and saw his sons, and his sons' sons, four generations. And Job died, an old man, and full of days." (Job 42:12-13; 15-17)
Jesus declared John, his cousin, the forerunner, who said "I am not worthy to untie his sandals" to be the greatest of those born of women. John lived in the wilderness, ate grasshoppers and wild honey, wore camels' hair clothing. … He was a wild man. Things are not what they seem. In fact, in God's upside-down kingdom, they are almost never what they seem.
In the resurrection, Jesus showed us the true paradigm of the story that started so long ago in the garden, the literal resurrection of a man from the dead. In this incredible event God's rule and reign were vindicated. The resurrection changed everything. In John 14:23-27 we are promised that the Trinity—the Father, Son and Holy Spirit—will make their home in us. This is the only basis for lasting peace and courage, to be at home with the Holy Trinity. As Pope John Paul II said, "Be Not afraid!"
George MacDonald wrote a poem called "The Girl Who Lost Things." He tells of all things the girl lost in the course of her life: pets, kisses, parents, health and finally her life.
"At last she lost the world:
In a black and stormy wind
Away from her it whirled—
But the loss how could she mind?
"For with it she lost her losses,
Her aching and her weeping,
Her pains and griefs and crosses,
And all things not worth keeping;"
MacDonald ends the poem this way:
"For the Father great of fathers,
Of mothers, girls, and boys,
In his arms his children gathers,
And sees to all their toys."
Scripture quotations are from the ESV® Bible (The Holy Bible, English Standard Version®), copyright © 2001 by Crossway, a publishing ministry of Good News Publishers. Used by permission. All rights reserved. The ESV text may not be quoted in any publication made available to the public by a Creative Commons license. The ESV may not be translated in whole or in part into any other language.
©2023 Lyn Baker. Used with permission.

Drawing from a varied and far-ranging life that includes 25 years as a private school administrator working with parents and children in the U.S. and Africa, Lyn's vocation is to help adults and children come to know God in a deeper way. Her certificate in spiritual direction, from Perkins School of Theology, caps a Master of Arts from the State University of New York and a Bachelor of Arts from the University of Wisconsin. Lyn is an ordained deacon in the Anglican Mission in America and former Director of Family Ministries at All Saints Dallas. You can reach Lyn at LynBakerAuthor.com.