Military Chaplains: On Mission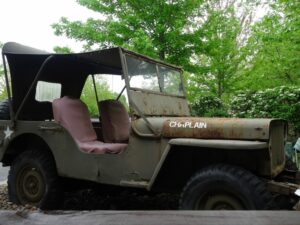 "We are a mission; nothing more, nothing less." I can hear our founding bishop, +Chuck Murphy, reminding me—reminding us—of who we are and what we do, capturing in just eight words our identity and our calling together as the Anglican Mission in America.
Church planting, of course, has historically been the primary way we have sought to reach the more than 200 million people in North America who do not believe the good news of our Lord Jesus Christ. But it is certainly not the only way. For almost as long as we have been a missionary society, we have sent some of our very best into our armed services to proclaim the gospel of the Kingdom.
I have been privileged to get to know each of our military chaplains better and learn of the unique call of God on their lives. Two things in particular have struck me.
The call of Jesus on their lives is challenging.
In the military, chaplain teams are made up of people of many different faiths. What if your church staff was required to be made up of people from different faith traditions?
They and those they serve are in near constant transition. If they and their families are not moving to a new post or assignment, the airmen, soldiers and sailors they serve are.
When they deploy, they are separated from their wives and families for weeks and months at a time.
They are called to lead and care for dozens to thousands of service members located across the globe.
Real tension can arise between their faith and what's required by their place in the chain of command.
But, while this call is challenging, the opportunity they have for mission is tremendous.
The military now recognizes that the "spiritual readiness" of its service members is key to its ability to accomplish its mission. As a result, chaplains have increasing influence among service members and their commanding officers.
Many of the sailors, airmen and soldiers that our chaplains have the opportunity to engage and care for are part of Generation Z. Members of this group, now in their teens and earlier 20s, have an observed openness to spirituality and want to discover faith in the midst of community.
Our military chaplains are on mission, although in a context and with challenges that are very different than those faced in the local church. But it's because they are on mission that we as a mission society send them, and it's why the Anglican Mission has always seen military chaplaincy as an important part of how we are collectively called to live this mission together.

Bryan+ Patrick was ordained as a presbyter in the Anglican Mission in 2013 while helping to plant and serving as a pastor of Grace Northridge, an AMiA church in San Antonio, Texas. Bryan+ currently lives in Belton, Texas with his wife, Lynsey, and their four children (Daphne, Iris, Silas and August) where he practices law with Norton Rose Fulbright as Senior Counsel. In 2023, Bryan+ began serving in a new role with the Anglican Mission as the AMiA's Department of Defense Endorsing Agent, which serves the Anglican Mission's military chaplains