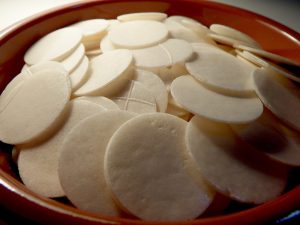 Anglican Archbishop William Temple once said, "Christianity is the most material of all religions." God works through the material stuff of this world—you, me, bread, wine, finances, etc. Other religions see the material as an illusion or a problem. Not the God of Scripture. God actually likes stuff. He invented these material things. He spent six days of creation inventing stuff.
We see in Scripture that Jesus uses the stuff of this world, like turning water into wine and feeding 5,000 with bread and fish. There are outrageous claims in Scripture about trusting how God wants to draw us to him. For example, in Luke 6:38 there is an outrageous promise, an invitation and a problem to wrestle with, and then a desired result to discover:
"Give, and it will be given to you. Good measure, pressed down, shaken together, running over, will be put into your lap. For with the measure you use it will be measured back to you." (ESV)
The promise: Jesus likes stuff. He uses stuff, the material of this world, to draw us to him. He has given everything to us; it is not ours, it is his. The promise is, give it back to him, and more will be given to you.
The problem: we don't believe it. I mean no disrespect, Lord, but I can't really see how that works. This stuff is mine. I have earned it. I know better how to use it.
What if the promise is true? What can we expect? When we take this leap of faith and give back to God a part of what he's given to us, 10%, the good news is we gain a sense of doing the right thing; we have more trust, less anxiety, more joy.
God works through the stuff he gives us; therefore, we are a sacramental people, coming to the sacred through the materials God has created and ordained for us. God works through these means, whether people, circumstances or material goods, to accomplish his ends, his will, for our good. He could unite us to himself without any means, but he chooses to bring us into his Church through material, sacramental things: into the Body of Christ through baptismal water, at his table with bread and wine, healing us through anointing oil. He could have done those things in all kinds of other ways, but he chose the material—the stuff—of this world.
In this same way, God works through stewardship to accomplish his ends. God wants the orphan and widow cared for, and He chooses to work through us—our time, our effort and our money—to do it. In other words, our checkbooks and our calendars are sacramental. Through our giving, God feeds the hungry, clothes the naked, cares for the sick and visits the imprisoned, and He grows the Kingdom through your ministries. God could have accomplished the above laundry list of blessings without a single dollar from any of us, but he didn't.
We are all being invited into the greatest honor one can know this side of heaven: the opportunity to partner with God in the salvation of the world!
+Philip

+Philip Jones is the Lead Bishop of the Anglican Mission in America and also serves as Rector of All Saints Dallas. Philip was born and raised in Dallas. He practiced law in Waco, Texas for seven years before he was called to the ministry. He has led churches in Marshall and El Paso, Texas and St. Andrew's Church in Little Rock, Arkansas. His wife, Claudia Clinton Jones, is from Burnet, Texas. They have seven children and thirteen grandchildren.