Experiencing the Holy Spirit
March 7, 2019 | +Philip Jones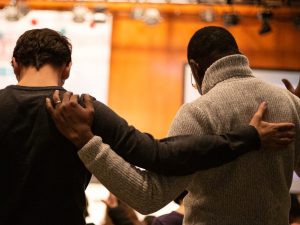 The Holy Spirit day or weekend retreat has always been a high point in the life of churches where I have served. Although it is part of the Alpha program, all Alpha participants for that season and all of our parishioners are encouraged to come and to bring friends. Because we seem to find so little teaching on the role of the power of the Holy Spirit in the church today, we try to make it as available as possible.
There are three questions presented: "Who is the Holy Spirit?", "What does the Holy Spirit do?" and "How can I be filled with the Holy Spirit?" Tragically, we usually do this retreat in one day, either at the church or off site in a retreat center environment. We usually have 40-60 people.
We meet for a short, light breakfast of bagels and coffee, followed by some worship, then the first two teachings. There is a break in between. After the second teaching there's a small group discussion, followed by lunch and then the third talk. After the third talk is a time of ministry in the Holy Spirit. This is where we get our greatest benefit from the weekend. We create a relaxed environment, and offer people time to come forward to prayer teams and ask to be filled with the Holy Spirit. The prayer teams are trained and we even show them how we are going to pray for them to receive the Holy Spirit. There is music and worship during the prayer time as people come forward. There are always tears, openness, receptivity, laughter and hope. "Hope" is probably the biggest word. People come forth and have experiences with the Holy Spirit. It is actually quite exciting to see people respond to the presence of the Lord.
This, of course, is only a beginning. There is an ongoing need to be filled with the Holy Spirit on a daily basis. Like water or sleep for our bodies, our souls were created to need and crave to be filled with the Spirit of God each day. This retreat time, away from the distractions of their everyday lives, gives people room to experience, understand and have hope for an ongoing experience of the Holy Spirit, directing and guiding them.
The key to this weekend or day retreat is humor, good biblical teaching, sharing of experiences and testimonies from others and offering time for ministry at the end. We would be glad to share with you how this has impacted our church community and, hopefully, yours.

+Philip Jones is the Lead Bishop of the Anglican Mission in America and also serves as Rector of All Saints Dallas. Philip was born and raised in Dallas. He practiced law in Waco, Texas for seven years before he was called to the ministry. He has led churches in Marshall and El Paso, Texas and St. Andrew's Church in Little Rock, Arkansas. His wife, Claudia Clinton Jones, is from Burnet, Texas. They have seven children and twelve grandchildren.