Sparks of Redemptive Grace
September 9, 2016 | David+ Larlee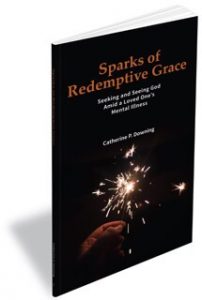 I wish this little book had been published many years ago when our extended family was trying to support a loved one dealing with chronic and serious depression. Sparks of Redemptive Grace: Seeking and Seeing God Amid a Loved One's Mental Illness brings an incredible level of helpful insight, mature faith and humble transparency into a conversation often cloaked by stigma and ignorance — especially in the Church.
Sparks of Redemptive Grace was written, under a pen name, by a member of our All Saints Dallas congregation. Having prayed with, cried with and walked with this family for several years, many of us have been impacted by the book in a number of significant ways. First, for other families in our fellowship who also deal with mental health issues, the book has helped them to see they are not alone in their struggles. They also find poignant examples of how to pray, how to love, how to hold fast in faith while they continue their difficult journey.
For others in our midst who care about, but don't really understand, the unrelenting obstacles and grief faced by families caring for a loved one struggling with a mental illness, Sparks of Redemptive Grace reveals an incredibly personal glimpse into what goes on in homes and hearts when dealing with a mental disorder. However, in addition to giving insight, the author also gives hope. She shows time and time again how God's redemptive grace is always present, always at work. Each chapter ends with a "reflective prayer" that powerfully reveals the most heart-wrenching examples of lament, of trust and of unwavering faith.
On the website (www.sparksofredemptivegrace.com) you can find a couple of sample chapters. One is titled "Casseroles" and it is about how our church community has served the family and how we continue to be impacted by their faith and faithfulness. The chapter — and the entire book — should entice all congregations to learn more, love better and pray fervently to conquer the stigma faced by families dealing with mental health difficulties.
Also on the website are lists of resources, an ongoing blog and ordering information (available on Amazon in paperback and Kindle). Be sure to check out the link for 31 Prayers, which gives brief and specific prayers to daily lift up these caregiving families. Pamphlets of the prayers can be purchased by writing to info@sparksofredemptivegrace.com.

David+ Larlee is a Canadian who came to Dallas via London, UK. In 2004 he was ordained as an Anglican priest and served an inner-city congregation in London for 10 years. David and Rachel have three young sons. His interests include ice hockey (especially the Dallas Stars), reading and live music. He obtained a Bachelor of Arts from Mount Allison University in 2000, a Master of Arts from the University of Western Ontario in 2001 and a Bachelor of Theology from the University of Oxford in 2004.